For those who are dealing with an advanced, terminal illness, hospice care provides a unique type of treatment that focuses on the patient's quality of life as well as support for their caretakers. In the situation of general inpatient hospice care, the patient is admitted temporarily admitted to a healthcare facility, such as a Medicare-certified hospice unit or center, a hospital, or a skilled care nursing facility. From there, they receive help with pain management or symptom control that otherwise can't be provided at home.
Facilities Provided in General Inpatient Hospice Care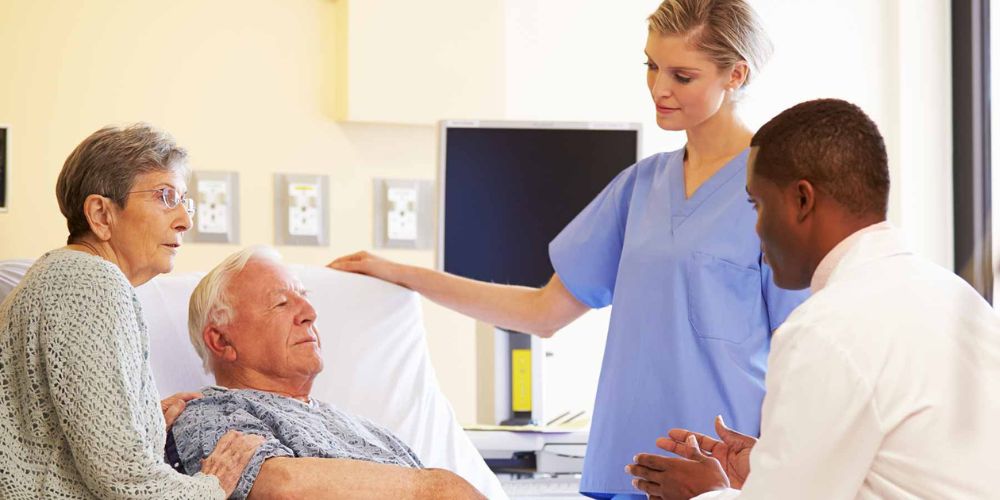 A home-like atmosphere to preserve patient dignity and privacy.
Although a general inpatient hospice setting has around-the-clock nursing care provided by a team of RNs and other health professionals, patients are allowed visits with family members of all ages at any time of the day. Additionally, this type of setting offers a home-like atmosphere and comfort compared to traditional hospitals where patients and families can interact with little to no disturbance.
Holistic Approach
In addition to the home-like setting, inpatient hospice care takes a more holistic approach to the patient's wellbeing and the needs of the family. It entails an understanding that a patient's needs go beyond their clinical and physical requirements. It also emphasizes how important it is for everyone who is providing care for the terminally ill to be aware of and sensitive to their patients' spiritual and emotional needs.
Personalized Plan of Care
With guidance from experienced case managers, patients and their families navigate through the different aspects of general inpatient hospice care. They are introduced to the practitioners, counselors, and chaplains or spiritual advisors who would be working with them. From there, the patient's personalized plan is carefully drawn up according to their wishes and those of their family.
24/7 Nursing Continuous Hospice Care
Another difference between in-home hospice care and a general inpatient situation is that the patient receives treatment 24 hours a day every day of the week for the duration of their stay. Nurses are close by, and the touch of the call button can alert them to any issues. Most importantly, skilled caregivers would follow the personalized plan regarding check-ins, therapy, and medication.
Who Qualifies for General Inpatient Hospice Care?
When a patient requires more skilled care to manage pain and/or symptoms of the condition, GIP could provide a viable option. Likewise, GIP cannot be utilized for caregiver respite or stress relief, which is another distinct service that may be included in the hospice plan or provided by another agency.
The following also presents more information about how a patient qualifies for GIP hospice care:
Analgesic requirements that cannot be met at home including those that require specialized nursing care with regular monitoring, frequent dose titration, and sophisticated delivery methods (such as subcutaneous, IV, or epidural).
Management of symptoms like nausea, vomiting, respiratory distress, or fatal complications such seizures or bleeding that would be impossible to treat with other resources.
Advanced, open wounds that require multiple people to treat, regular dressing changes, and monitoring.
Severe delirium with uncontrollable behavioral symptoms somewhere
When patients are discharged from Inpatient Hospice Care?
The facility must get the hospice medical director's written approval before releasing a patient for any cause other than patient's revocation, transfer, or death.
Additionally, you should be sure to fully explain everything to the patient to prevent issues that could lead to a readmission to the hospital. Here are some pointers to remember.
Clearly explain the paperwork.
Thoroughly go through the patient's current medication list with the family because some prescriptions may have changed while they were being treated in the hospital.
The patient should be involved in the review of all information. Putting the patient at ease by asking open-ended inquiries gives them the flexibility to express their ideas and worries.
After being released, patients frequently require follow-up appointments. Both with their main care physician and any specialists (such as cardiology, wound care, pulmonary, etc.) may be included in these. It is crucial to make sure that the phone numbers for these providers, as well as the suggested duration for the follow-up, are listed on the discharge paperwork.
How Abundant General Inpatient Care House Can Help
Abundant General Inpatient Care House, which has vast experience as a leader in hospice and palliative care, provides:
Plans for individual care based on a patient's diagnosis
Interprofessional care groups
Counseling, emotional support, and spiritual care
Services for grief and bereavement
To find out how we may assist you, contact Abundant Hospice General Inpatient Care House.